Night Safari Tour.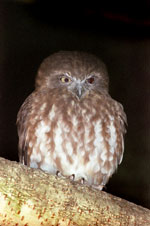 The Nightlife Tour is designed to give visitors a glimpse into what goes on in the animal kingdom in Carnarvon Gorge at night. Over 80% of Australian mammals are nocturnal, therefore if you wish to encounter them you must get out after sundown and go spotlighting.
Many different animals are sighted on the Nightlife Tour. The Gorge has a rich variety of nocturnal birds including owls, thick-knees (stone-curlews), nightjars, and frogmouths. Macropod life is also a feature, as the Gorge's kangaroos, wallabies and bettongs are active in the early hours of the night.
But the real stars of the Nightlife Tour are the Gorge's gliders. Five of the country's six species call Carnarvon Gorge home. The only one that does not is the Mahogany Glider, which has a restricted range in North Queensland. Rarely does the Nightlife Tour encounter all five species present in the one evening, however we average a healthy 2-3 species on most nights.
The most frequently seen glider species are also the largest. The Greater Glider (right) can reach lengths of over a metre, most of which is tail, and the Yellow-bellied Gliders grow to over half a metre in length. If given the choice, Simon will park you in the vicinity of Yellow-bellied Gliders as they are far more active than Greater Gliders.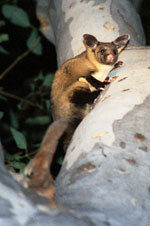 Simon thinks Yellow-bellied Gliders (left) are Australia's answer to monkeys. To him they are marsupial mischief on a stick, and he has never tired of watching them. Yellow-bellied Gliders are highly social, and Simon uses their social calling not only to locate them, but also to understand what they are feeding on, when they are likely to move, and where they might move to. That ability allows him to place his groups in the parts of the track from which they are most likely to see the gliders glide.

When Yellow-bellied Gliders are in the air, they look like a furry tea-towel with a tail. Simon's groups have witnessed them cover distances of over one hundred and fifty metres in a single glide. Most glides cover about half that distance, which is still an amazing sight. One of the reasons Simon is able to show guests such marvellous glider behaviour is that they are used to his presence and the way he uses the spotlight. All of the individuals in the two family groups he watches have grown up under the spotlight and regard it as a normal part of their evening experience.
Bookings: Email us directly or find us at Carnarvon Gorge Visitor Information Centre next to Carnarvon Gorge Wilderness Lodge.
Availability: Daily on demand.
Minimum Group Size: 4.
Duration: 1 - 1.5 hours.
Terrain: Flat, easy walking with one creek crossing.
Cost: $25 per person.
Inclusions: We provide binoculars. Feel free to bring your own if you wish.
Bring: Warm clothing and a torch or headlamp.